Best Free Camera App for Android 2024
The smartphone industry has improved a lot to contain powerful camera pieces, but you don't take full advantage of this function because of the original camera app that comes with your phone system, sometimes this app can limit the capability of your hardware camera and make you miss a lot of amazing features.
Likely there is plenty of third-party camera app that has been designed to include great photographY additions and to maximize the camera ability on your device. If you are looking to get these apps on your Android phone, you can follow our guide to "Best Free Camera App for Android 2024" which will make the shoots look better.
Related posts:
1. Adobe Lightroom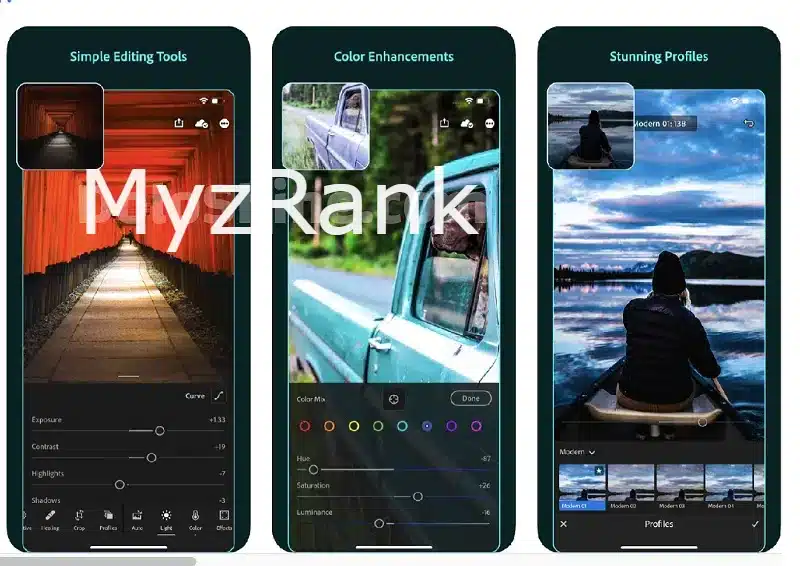 The No 1 camera app.
Adobe software not only includes features for free photo editing and image replacement but also features and professional photography capabilities. Using artificial intelligence techniques, you can take great selfies or beautify the dining table, make food more interesting or you can change the color of the sky and manipulate it in pictures.
There are many filters and effects you can add before taking a picture, but you can let Adobe applications do the hard work for you, just point the camera to the scene and each application is interested in adding the appropriate effects to the image based on the ambient light of the scene.
The only downside to Adobe applications is that they're not compatible with all smartphones. Unfortunately, we don't know why the company decided to make their apps available to some smartphones but the silver lining is that if your phone supports these apps, make sure you can take professional photos. It's of high quality and no longer needs the standard camera app.
2. HedgeCam 2
The best camera app for Android 2024.
HedgeCam 2 is the best new professional camera app on the Google Play Store, incorporating all the functionality you need when taking a shot, starting with imaging modes that include regular imaging mode, background fog, timer, white balancing mode, and HDR. mode, ISO mode, etc.
Special DRO modeBy optimizing the dynamic range for improving lighting in certain areas of the image, you can also adjust the display resolution, contrast ratio, bit rate, and frame count for video recording. In my personal opinion, the only drawback of this app is that it is difficult and requires a lot of experience and previous knowledge of photography functions.
3. Candy Camera
Best free camera app for Android 2024.
Candy Camera is another great camera app that helps capture better personal photos. It comes with a range of filters and beauty functions that include makeup tools, facial deduction effects, posters, etc. You can also take muted personal photos and snapshots, and create multiple photo collections. It's not the app that's required for a serious photographer. However, it can be enough to please a selfie lover. It is available free of charge and contains advertisements.
4. Camera MX
The high-quality camera app.
Camera MX is a full-featured camera app that offers many options for taking pictures. With Camera MX, you can create moving images and videos, and add effects, filters, frames, and more to edit your images creatively. Its most important features include live footage, GIF, Gallery, and the "Shoot The Past" option where you can select the perfect moment of the image even after the picture is taken. Generally, Camera MX is a great camera app available for free and is Play Store compatible with Android 2.3 and later.
5. Cymera
With more than 100 million downloads, Cymera is a perfect camera app for Android users that is available free of charge in the Play Store. It amazes its users with seven different kinds of wonderful camera lenses, camera installers, timers, and silent modes that allow you to quietly capture any image. Cymera has a high degree of excellence and includes everything a user might look for, such as multiple filters, photo editing tools, body reshaping, a smart gallery, etc. The app supports 12 different languages. It was developed by SK Communication and is available for Android 2.3 and later.
6. Google Camera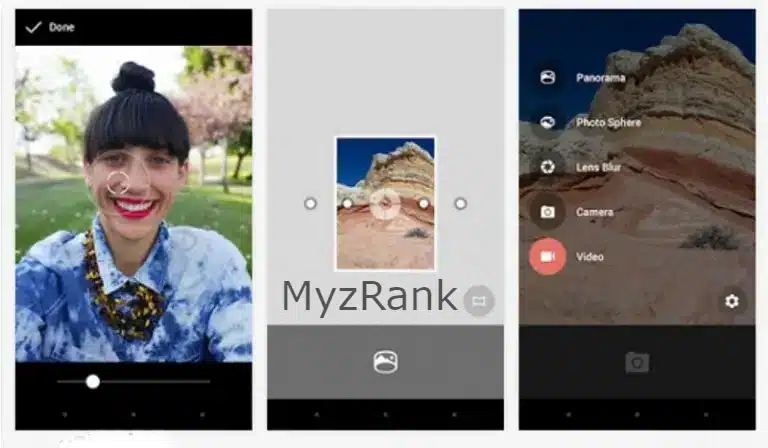 The best camera filter app for Android.
Google Pixel is better for their camera phones, but it's not just the device that gives them these beautiful pictures, it's very system-based. Google has developed the Android system and hardware for pixel phones, so they've got Google Camera which is better in the world of taking pictures, and most of those who've tried it have seen the difference and the big improvement in camera performance from the first experiment, but this app doesn't work on all Android phones (it can be played with the robot, but we only advise people who have been proven it by their will).
7. ProCam X
I prefer using ProCam X on many other camera apps, and the reason is that you have all the settings and all the controls at your fingertips over the close button so you can easily switch between imaging modes.
There is a temp mode, ISO, flash control, and HDR. mode. The app is literally cool, but the only downside is, it's just a paid app, and there's no free beta version. The app also has a large number of settings that can cause confusion for beginners, but on the plus side, once you get used to it, and understand all the settings, you'll find it's a professional camera app. This provides all the advanced settings you need when taking pictures: white balance, adding effects to images before taking them, antivibration positioning, automatic focus and ability to take pictures, and high-quality videos.
8. A Better Camera
From the name of the app you expect good features on the mobile, but luckily this app offers good features, having a very large set of modes and styles, such as night mode, focus mode, background isolation, and a lot of professional stuff, and you're also guaranteed to have HDR., all of this with the system and technology built into the app, and of course, if you're not a professional in the whole use of camera settings, it also gives you a beautiful auto-shot.
9. DSLR Camera Pro
Best DSLR camera app for Android.
When you see the name DSLR on Android, you get a little bit of a curiosity, but it's also named for the ability to manually control camera settings, like white balance, exposure, ISO, support for RGB, like the application simulates locking control on professional cameras, and of course, it has a very simple interface that's easy to control, and I leave it up to you to download so you can get more familiar with the features in this great application.
10. Footej Camera
This app is similar to the first app because it is based on the Camera2 API enabled if it is on mobile, which means that you have access to all manual control of the camera properties that you know, where the ISO of course is included, white balance, spot balancing, artificial intelligence, etc. With this app, you can also create animated GIF images, and for people who like to edit images on Photoshop and others, this application allows you to support RAW and RGB graphs so that you get full data before taking pictures.
---
Share: