Best Free International Texting Apps in 2024
Thanks to today's technology texting have become one of the easiest and fastest things that you can do. Besides the social media platforms such as Facebook, and WhatsApp, we have the main texting SMS that still most people still prefer to use, this message service does offer many great features like setting up automatic messages and supporting different types of numbers.
However, texting can be expensive especially in some cases when you want to send large files to international numbers. In this guide, we've made a list of the Best Free International Texting Apps in 2024 that you can use to text global numbers without any costs.
You can Read also:
Best Free Hidden Call Recorder Apps for Android in 2023
Best Piano Learning Apps for Beginners in 2023
1. Hike messenger: free app for international texting
Do more than just simple messaging with Hike messenger. The social messaging app comes with features that allow you to do more than just regular testing. Connect with anyone via messenger and make sure you're protecting your data with 128-bit encryption at any cost.
You can easily send free unlimited SMS messages to your contacts and get a bonus when you're done with many tasks. Express your feelings better with more than 20,000 posters and make the conversation more fun.
Use the hidden mode in Hike messenger to secure your conversations, making it possible to access chats only by using the correct password also, the hidden messages will be visible on the app's chat screen.
2. Text Free: international texting app without wifi
Use the Text Free app to text and easily connect to other numbers using the phone number provided by the app. Choose the area code and select your phone number's favorite numbers to use for mailing and calls. Send unlimited MMS and photo messages with no problem. Select labels to ideally share your emotions.
Messaging seamlessly through the app the way you like. The number is real and you can easily use it to connect with others, too. Overcome the boring old messaging app by selecting the app for your device.
Checkout: Dependable Text-Messaging Apps for International.
3. Handcent Next SMS: The best international texting app in 2024
The app is also one of Android's most popular and oldest SMS apps for phones; of course, the app is different now from what it was the first time if you've ever used it before, and now it supports lots of features like a neat interface, multiple thymes, night mode, and more… But what's good about it is that it also can text from computers and tablets, and it contains limited free use and in-app purchases, which are not mandatory of course, but ads can be a lot in the free version and, which is also provides very limited services, but they're ideal for emergency and urgent use.
4. QKSMS: free international texting app for android
This is a highly customizable text messaging app that lets you change your color scheme, and of course, send a text to your contacts. It's also compatible with wear, allowing you to reply to your text messages without picking up your phone. On Android, it supports pop-up replies, so you can reply to text from almost any app. The new update of the app also enables support for dual-chip smartphones, which are popular in Europe and Asia.
There's a smart conversation search feature that's rarely found in messaging apps. Create group chats, send posters, photos, and videos to multimedia messages, and access features such as night mode to reduce stress on your eyes at night. Even better though the app is free to download, it has no ads at all, allowing you to use its features without interruption. There are in-app purchases, but the app is slightly newer in the market and therefore requires smartphones running Android 5.0 and later.
Checkout: Best Budget Android Phones in 2023
5. TextMe Up: free international texting app for iPhone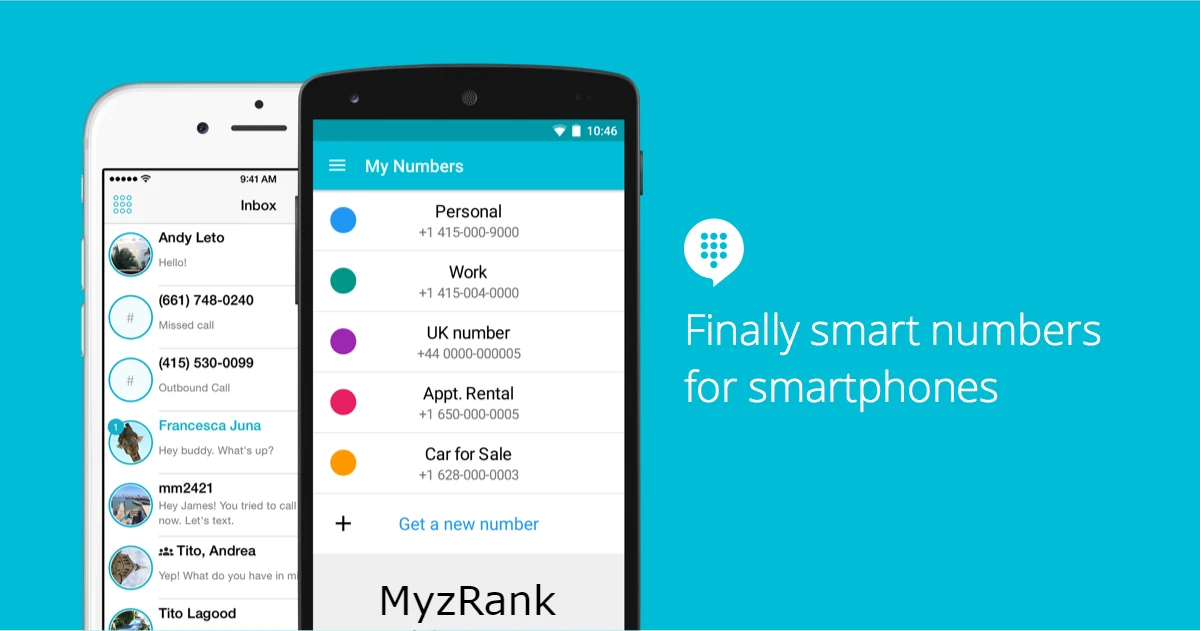 TextMe Up is not much different from Text Free. The app gives you a phone number, and you can send and receive text messages through it. The app has fewer ads per page, but there are ads in more places. It's just a matter of preference.
The app also supports phone calls with a credit system. Subscriptions include US$4.99 per week for a week of full access (including free calls) and US$7.99 per month. Both subscriptions remove advertisements and include free phone calls. This app only has free messages for the US and Canada, so it may only be for those who want to send text messages to these countries, so may need to use VPN app if you are not from these countries.
---
Share: