The Best Apps to Watch Movies for Free on Android 2024
In Today's world, most people use their phones to watch different types of things. Movies and series aren't stay limited to TV and Cinema like in the old days, in fact now can anybody watch films and TV shows just by using a small screen.
Many online streaming services are available some of them can be used for free and others you should pay for them such as Netflix, HBO, and Hulu… But, in this guide, we are going to take a look at the free option, so if you are looking for top sources to watch your favorite entertainment picks, To help with that, we've made a list of "The Best Apps to Watch Movies for Free on Android 2024" that contain a huge number of Movies and TV programs.
Related posts:
The Best movies of 2024 so far
1. Tubi TV
The best app for watching movies and series.
The Tobi TV app contains a lot of free foreign films which are divided into several categories: Comedy, Action, Cooking Shows, Romance, and more It lets you browse through a lot of popular movies, and the app works easily, without complexity, without lots of annoying advertising, it's one of the best movie-watching apps, and it's also downloaded very quickly and trouble-free. The app gives you the option of creating a free personal account, then adding movies to your favorites, and then returning to them later, adding that you can sign in to your account from any other device and see the movies you've added to your favorites list. You can download or watch movies and TV series on the app's website.
The app is cool, and it adds soap operas all the time, For any new episode that gets published, you'll find it very quickly, meaning that if there is a new episode published, you'll find it very quickly and easily. That's why you enjoy watching movies and TV series and how fast you download them, and the app is so small, which means it's so light and won't take up a lot of space on the phone.
2.

Vudu
The best movie-watching app on Android 2024.
Vudu is the best free download and watches movies app for iPhones and Android and is affiliated with the American company Fandango Media, which specializes in broadcasting video for free.
The app allows you to watch content from movies and soap operas by buying it or watching it for free with occasional ads. The app has a rich library of great movies that are updated every week. Among the free films, the program offers are classics to the latest box office and ticket films. The app also gives you many high-quality movies to download and watch later.
3. Watch iT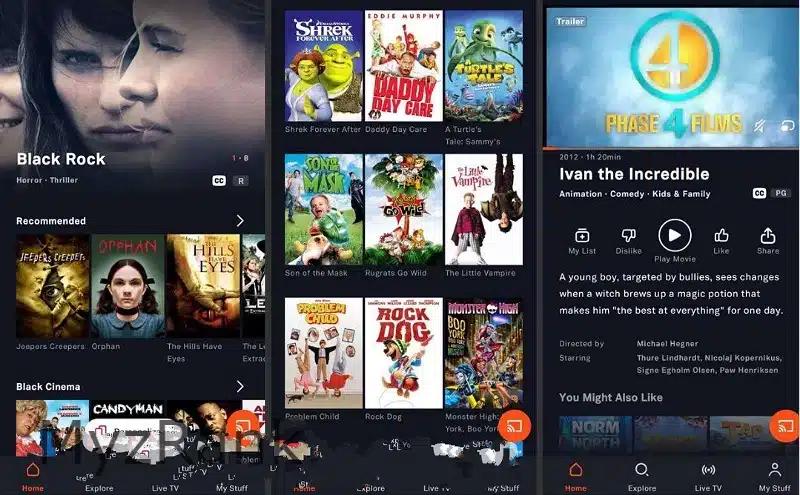 Free movie apps for Android (2024).
Watch iT is considered one of the best apps that contain the biggest and most important popular films and series. The watch app is considered the best free app to watch great films and TV series. Watch iT has easy, easy-to-access ratings such as soap operas, movies, plays, and programs Watch iT is free of annoying advertising.
4. Sling TV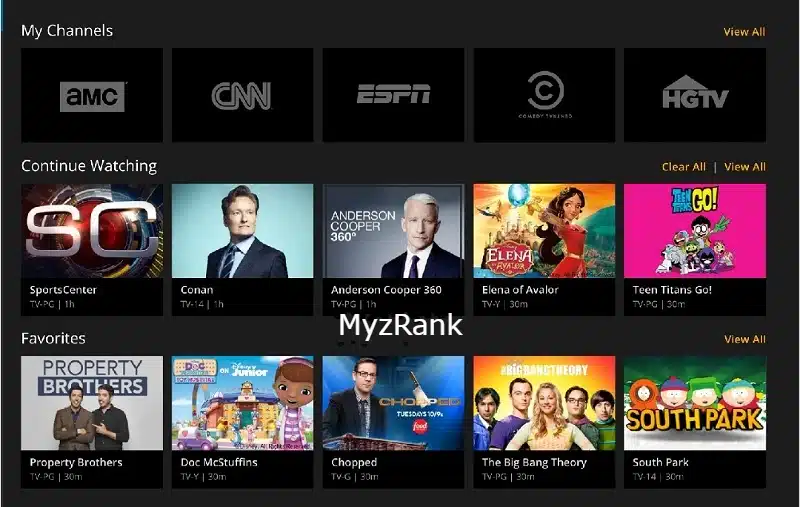 The best app to watch series for free.
Sling TV is one of the best applications for watching movies on smartphones, and also one of the best free TV applications, as it has a variety of programs from news and sports to comedy and animation, and is used to stream live TV channels to over 200 channels. This package includes ESPN, TNT, CNN, HGTV, Bloomberg, CNBC, FOX News, History, and many others.
Sling TV is available on more than 85,000 movies on demand, in addition to any children's programs such as animation, from networks such as the Disney Channel and Cartoon Network. As we've always done in other applications, what makes Sling TV one of the best movie-watching apps is it has content customization, content customization, and channel storage on your favorites, and back to them later.
5. FilmRise
Enjoy the best movies and entertainment on your couch with the free FilmRise movie app, and in high quality without ever paying a subscription. This app is a fairly low advertisement and won't cause you any trouble watching movies. One of the things that you do with one of the best watching movie apps is that it shows you a movie history, or in other words, a recent movie-watching list. And that saves you the trouble of looking for a film that you didn't finish last time.
6.

Popcornflix
Best streaming apps for Android 2024.
Popcornflix is one of the best free movie apps on iPhone and Android phones, and it is part of Screen Media Ventures, which allows you to watch movies and series for advertising. A variety of drama, action, action, horror, and other films can easily access. There is a large list of famous films of many stars, where you can browse films by title, actor, genre, etc. Comedy, family, children, drama, horror, and documentaries are some of the most important films. Everything in this app is 100% free and 100% legal.
7. WatanFlix
Free movie apps for Android (2024).
The app is part of the US World Wide Web. The app provides you with all the films and foreign cool operas and you can watch them in high quality and at high speed. The HomeFlex app is 100% free and ad-free. It has a great and very convenient interface for users, as you can only watch the movies you look for with a few clicks.
You can run movies and series, you can arrange them, and you can add movies to your favorites, but you have to make a free calculation, and that won't take a few minutes. The app is well-designed. It contains sections for foreign films that have been translated into dubbed. The app contains many sections comedies, dramas, action, horror, romance, and many more.
8.

Crackle
Top movie apps for android tv.
Crackle is a free-watching movie app. You can watch Hollywood movies, soap operas, and TV shows on your favorite PCs for free, but there are ads to cover the free running costs of the show. And that's pretty normal. There's an automatic translation system in the app, and there's a rating system that helps you get the kind of movie you want: comedy, drama, or motion, You can also find the best old and new classic movies.
9.

Peacock TV
Peacock TV is a free app to download and watch movies for iPhones and Android, a high-quality U.S. video streaming service owned and managed by NBC World's television and Livestream division. Yes, my friend, the company has decided to launch an official program for iPhones and iPads to monitor movies, soap operas, and television shows.
While Peacock has a paid-for version, it also offers many free shows and movies for streaming with ads on the iPhone, iPad, and Apple TV. You can sign up and start watching without entering any payment information, and in my experience, the frequency and length of the ad were never stressful.
10.

Pluto TV
Pluto TV is a free TV broadcast service run by ViacomCBS Streaming, through which you access thousands of great movies, series, and TV shows. There are more than 100 TV channels to watch what you like for free and 100% legal. Everything you want to get in this app is the biggest movies, full seasons of your favorite shows, funny comedy shows, live streaming of sports, classic games, news and analysis, powerful TV shows, and more. In addition, the app has 27 dedicated film channels.
---
Share: