The popularity of the consumer drone has grown dramatically in the last few years. If there are questions about how the general public would use a device that only the military uses, then these questions have been answered in the form of stunning aerial photos and videos captured by practicing or professional visual artists.
They have also been helpful in zone observation of areas devastated by natural disasters and unsafe for entry on the ground. With this surge in popularity comes the need to develop a more practical and user-friendly product. Auto-tracked UAVs allow users to select a target for their drone's camera to "pause" and follow while continuing to take high-quality snapshots of their drone or air show.
This feature device also gives content creators more flexibility and freedom to create photos, scenarios, or stories by only using a distance console to control their drones.
If you're looking to buy a new drone device, in this guide you will find a list of The Best Drones for 2024 that will fit your needs and budget.
Related posts:
1. DJI Air 2S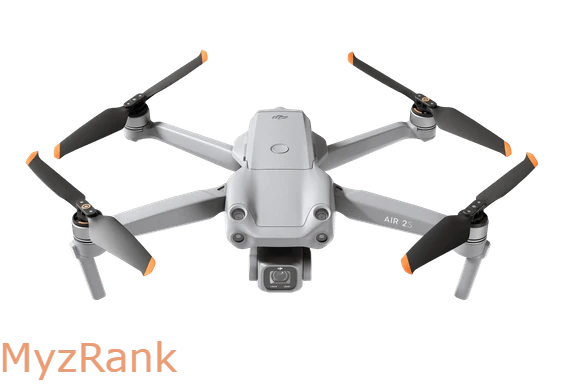 The best drone for photography 2024.
Excellent video and photo quality, easy to fly, convincing obstacle detection, and fair value for money: The DJI Air 2S is our number 1 in the drone sky. Whether for beginners or more ambitious drone pilots, the DJI Air 2S is a great multicopter that delivers excellent flying characteristics with impressive photos and videos.
The camera with the 1-inch sensor is well-stabilised by the 3-axis gimbal. In addition, various helpers ensure that the DJI drone reliably evades obstacles. With 30 minutes per battery charge, the flight time is quite abundant. In order to detect obstacles such as trees or rock faces in its own direction, the Air 2S drone is equipped with sensors at the front, rear, left, right, and top and bottom.
This system works very reliably. Frontal crashes are effectively avoided, and flying close by is also perfectly possible. Controlling the drone is very simple, and DJI-specific. The multicopter takes over the start and landing if necessary without any other intervention. The photo and video quality of the drone is top, even in lower light conditions. In terms of price/performance, this DJI drone has no competition.
2. Parrot Anafi FPV
The best drone to buy.
The Parrot Anafi FPV convinces flying behavior and video quality and brings the pilots virtually into the cockpit thanks to FPV glasses. With the Anafi FPV, Parrot offers an interesting complete package with a drone, controller, FPV glasses, and backpack at a fair price.
The computer is easy to control, quiet in the air, and provides convincing video quality. The first-person view function allows you to experience landscapes directly in front of your own eyes from the camera's perspective.
3. DJI Mavic 3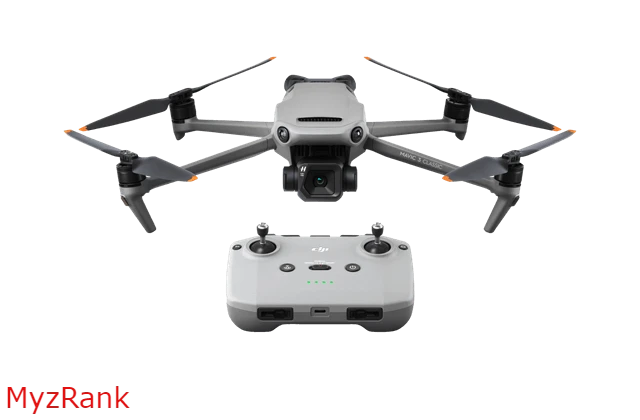 Best drones 2024 for the money.
Hasselblad camera, zoom, 5.1K resolution, long flight time, and outstanding video quality: The DJI Mavic 3 is a drone for the highest demands. DJI has developed the Mavic 3 for the highest demands.
The professional drone excites with a dual camera system, filmed in 5.1K with a data rate of up to 200 Mbit/s, scores with excellent videos and photos, and a sophisticated obstacle detection system. In addition, there is a long flight time and excellent flight behavior. The Mavic 3 is also available with a terabyte of large SSD.
Read also: Best Drones With The Longest Flight Time
4. DJI Avata
The most quiet drone in 2024.
For beginners to the FPV drone world, the DJI Avata is the perfect model: easy to fly with great goggles and a high goosebumps factor. Switch on the drone and hand controller, put on glasses, and off you go.
The new DJI Avata delivers impressive flying experiences from a first-person perspective. It is built so robustly that it survives a crash, can be easily controlled, is up to 100 km/h fast, and convinces by good video quality. For beginners, the complete package is ideal, even without drones' previous experience, you can quickly get along with this aircraft.
5. DJI Mini 3 Pro
The best drones for beginners.
The DJI Mini 3 Pro is super lightweight and fits loosely in the jacket pocket. Flight behavior, video quality, and equipment are top for this Winzling. It fits into the jacket pocket, weighs only 249 grams, and can therefore be flown without a drone license.
The DJI Mini 3 Pro excites with its great flying behavior, is protected from accidents by various sensors, and even has a digital zoom. In conjunction with the remote control with a 5.5-inch display, the mini drone is extremely fast to start and to control perfectly.
---
Share: