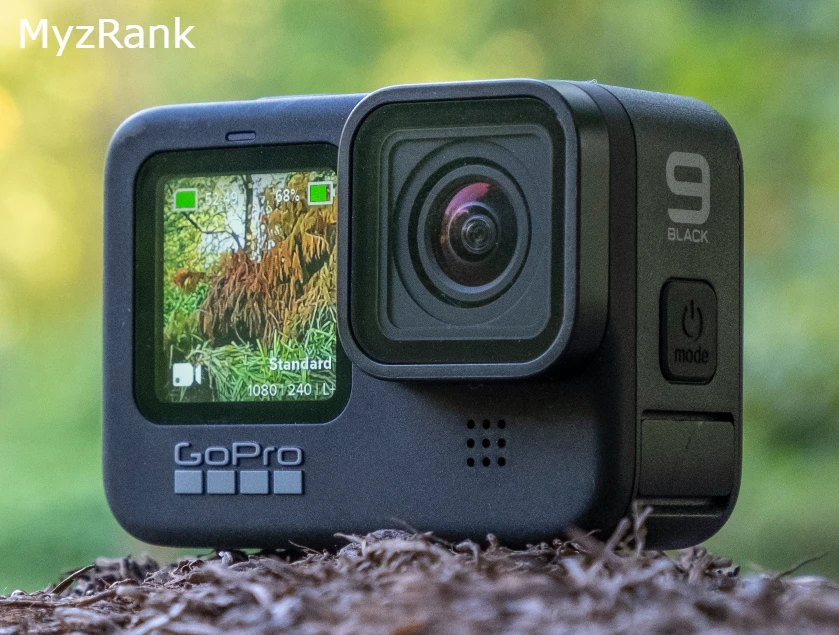 GoPro is a sports recording camera that is used to film physical reaction videos whether is running, biking, climbing, or skateboarding. GoPro can be used to create amazing movement videos, one of the great advantages of GoPro over a regular DSLR camera is that it is considered to be smaller and lighter so it can be easy to use and carry in any place.
Now if you looking to buy a new GoPro camera to help you pick the right choice, we've made a list of The Best GoPro for 2024 that will feets your needs and budget.
Related posts:
Best Free Camera App for Android 2024
1. GoPro HERO12 Black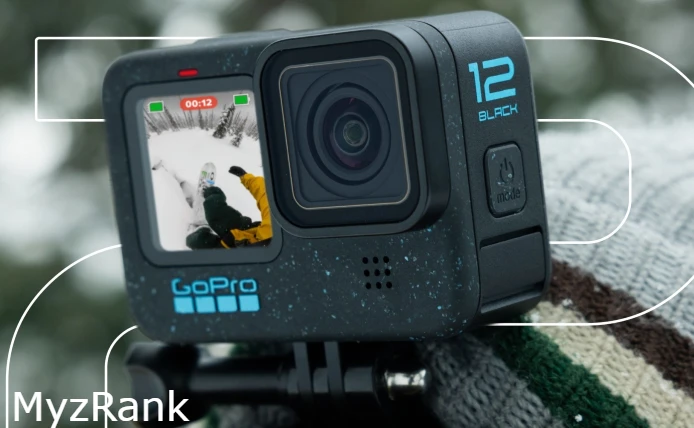 The best GoPro to buy.
Another year of GoPro has brought us a new release, and the action camera family continues to grow again to reach 12. Yes, this is a new GoPro HERO12 Black, and after trying it for a few weeks, I will tell you everything about its novelties and whether there are important differences from HERO11 Black.
It is inevitable to start with an aesthetic section since HERO12 Black is literally a copy of its predecessor. The GoPro formula continues to be effective, and we again have a strong case with a very good finish and two screens for viewing the recording. There is nothing to get along with, but the rumors about the larger screen were not justified. It's a shame because we'd like a bigger screen, but maybe it's somewhat counterproductive in a device designed for shock resistance.
Specifications & Price:
| | |
| --- | --- |
| Maximum video resolution | 5.3K/60 fps |
| Maximum photo resolution | 27MP |
| Size | 2.83 x 2 x 1.32 inches |
| Weight | 154g |
| Touch screen |  Yes |
| Battery life | 155minets at (1080p/30fps) |
| Water resistance | 33ft |
| Price | 399$ |
2. GoPro Hero11 Black
Best GoPro 2024 for the money.
The GoPro Hero11 Black features a large 1/1.9-inch image sensor with an 8:7 aspect ratio. This square format not only allows for more capture but also provides more flexibility in video editing. With GoPro Quik, you can output video in a variety of formats, including TikTok-friendly 9:16. One of the advantages of Hero11 Black is its incredibly effective image stabilization, allowing you to rotate the camera without worrying about the image breaking the horizon.
New shooting modes allow you to create stunning visual effects such as star tracks and light painting. The GoPro Quik interface is so simple and intuitive that video editing becomes a real treat.
Specifications & Price:
| | |
| --- | --- |
| Maximum video resolution | 5K/30fps |
| Maximum photo resolution | 27MP |
| Size | 71 x 51 x 33 mm |
| Weight | 153g |
| Touch screen |  Yes |
| Battery life | 1:38 (1080p/30fps) |
| Water resistance | 10m |
| Price | 349$ |
Read also: 10 Best VPN Services Of 2024
3. GoPro Hero10 Black
Best GoPro 2024.
The GoPro Hero10 Black retains the appearance of the Hero9 Black, however, has an improved processor that allows you to shoot 5.3K/60 FPS video resolution, as well as 2K video at 240 frames per second and 4K at 120 frames per second.
In addition, the camera has a larger 23 MP image sensor and is lighter. The most impressive improvement is improved image stabilization, where the camera can be tilted at 45 degrees, but still be stable. However, this results in some reduction in battery life that is left at the Hero9 level. Even so, the battery and accessories can be used in the same way as the previous model.
Specifications & Price:
| | |
| --- | --- |
| Maximum video resolution | 5K / 60 fps |
| Maximum photo resolution | 23MP |
| Size | 70 x 48 x 41 mm |
| Weight | 150g |
| Touch screen |  Yes |
| Battery life | 1:41 (1080p/30fps) |
| Water resistance | 10m |
| Price | 289$ |
4. GoPro Max
The best GoPro for beginners.
GoPro Max – 360-degree camera appeared after HERO8 Black. It has the same intuitive operating system and a similar design to the more traditional version. The camera uses a frameless retention system with two metal fingers that fold away from the base, allowing it to be attached to fasteners and accessories. GoPro Max replaces the GoPro Fusion, which is no longer produced.
The Max is significantly superior to its predecessor and has many popular features from the Hero lineup, such as Hypersmooth image stabilization and TimeWarp frame-by-frame video. However, the stitching of the front and rear lens images can be noticeable. Vloggers can switch between front and back views on the Max touchscreen. All 360-degree images can be viewed in a multifunctional smartphone app that also gives access to camera controls. Max is a versatile suite that makes it easy to create stunning content. Its functionality and smartphone app makes it the best 360-degree camera on the market.
Specifications & Price:
| | |
| --- | --- |
| Maximum video resolution | 6K source / 5.6K flash |
| Maximum photo resolution | 18 MP, Hero: 5.5 MP, PowerPano: 6.2 MP |
| Voice control |  Yes |
| GPS | Yes |
| Touch screen |  Yes |
| Battery life | 85 minutes 1080p (16:9) or 1440p (4:3) video |
| Water resistance | 5m |
| Price | 349$ |
Check out: The 3 Best GoPro Sports Cameras
5. GoPro Hero 9 Black Edition
The Best GoPro for 2024.
The most obvious difference between GoPro Hero 8 and GoPro Hero 9 is the presence of a front screen. If you're using a camera mainly on your helmet, chest, or handlebar, you probably won't find it particularly useful, however, if you're using it for video logging, as a webcam, or for selfies, it's a great addition. The camera also has a 20-megapixel sensor and can shoot video with up to 5K resolution, which can be slightly redundant, but it's nice to have!
You can also capture photos from a 14.7-megapixel camera from a video, which is ideal for posting on social media. The 2.27-inch rear screen is larger than Hero 8 Black, and its stabilization of Hypersmooth 3.0 video also received improvements.
With the removable objective cover, you can also add the Max Lens Mod accessory to the GoPro Hero 9 Black, which complements several GoPro Max-style features such as 360-degree horizontal locking and the Max SuperView ultra-wide 155-degree viewing mode. This is a fantastic set that will help you capture moments of adventure in high resolution.
Specifications & Price:
| | |
| --- | --- |
| Maximum video resolution | 5K/30fps, 4K/60fps, 2.7K/120fps, 1080p/240fps |
| Maximum photo resolution | 20MP |
| color | LCD Front display with live preview |
| GPS | Yes |
| Voice control |  Yes |
| Battery life | 97 minutes 1080p video |
| Water resistance | 10m |
| Price | 224$ |
---
Share: