Best Free Hidden Call Recorder Apps For Android in 2024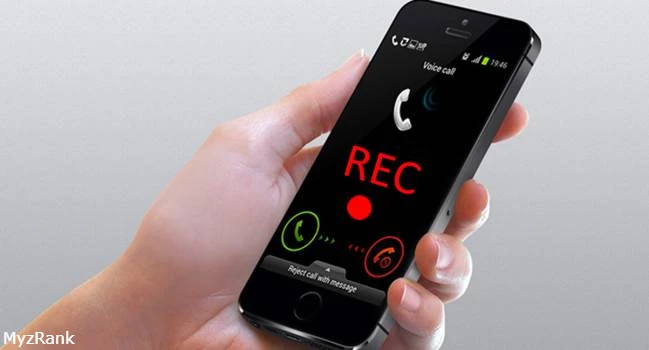 Indeed we should all respect others' privacy, but Sometimes you may want to know what's going on with your relatives or friends' phone calls which may be for their own safety, such as your children who may want to always keep an eye on them and watch their activities.
One of the best ways to listen to others' phone calls is by installing software on the device target that works on recording the phone conversations secretly and sending it to you so you can listen to them later.
In this guide, we've collected a list of the Best Free Hidden Call Recorder Apps For Android in 2024 that you can use on this surveillance process.
Check out:
androidThe best Android phone to buy in 2024
Best Budget Android Phones in 2023
1. Automatic Call Recorder: The best call recorder app for Android 2023
The app is one of the best call recording apps for Android phones. The app records calls automatically without your intervention, so it's a hidden call-recording app, and it works automatically.
This software gives you the highest quality sound, whether it's your voice or your second-party sound, and the recording is saved with high quality for later listening. What's unique about this program is that it allows you to select specific calls to record without the rest, meaning you choose which phone calls you to want the program to record.
Also, it's worth mentioning that this app gives you a call notification that says the call was recorded or ignored. With all of these features, the software remains free for all users. Another benefit is that the software allows you to record and sync calls on DropBox and Google Drive cloud storage services, so you will keep the calls registered on the cloud service and won't lose them even if they're deleted from your phone memory.
2. Call Recorder – Cube ACR
This is the highest-rated app now on Google Play and the app store, and it also has many downloads. The app allows you to record calls for all Android phones, it is a professional call-recording program, and I've personally experienced it and recommend it to users.
This app also allows you to record voice calls for messaging programs, such as WhatsApp, Facebook Messenger, Viber, Skype, Telegram, and all other services. You can make the app record all calls without exception. When a connection is coming on the target phone, the software will automatically record calls anonymously without your intervention.
You can also make the app record calls for some specific contacts on your phone, and you will create a list of those contacts so that the program can access them. You can also exclude some numbers and contacts from their call logging, i.e. Also inside the app is the manual call logging mode, where you will tap the app logging button during the call, and the app will start recording immediately.
One of the features of this app is that you can save recordings in Google Drive cloud storage services, and you can lock recordings with a password, so no one can access and listen to them. You'll be able to choose external memory to save recorded calls instead of internal phone memory. The software is great and really worth the experience.
Check out the best Phone Call Recorder App For 2023.
3. Smart Call Recorder: The best free app to record phone calls in 2023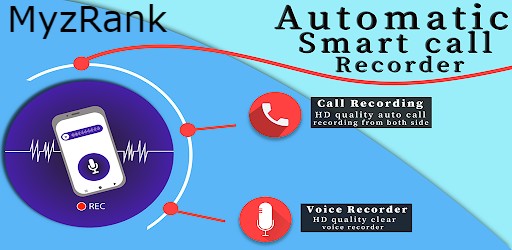 Android Smart Call Recorder, through which you'll be able to record all your phone calls in high quality while you're speaking. The app allows you to enable and disable call logging, with the option to delete calls you do not want.
The app supports list work to record only the contacts you want, or you can make a list of contacts excluded from registration. An important feature of this app is that you can delay starting the call-logging process.
The software allows you to make a password, as in the previously mentioned app, to protect your privacy. Also, the software can capture the most accurate call details, even if the voice is very low.
4. callX: Automatic call recording app for android
This is one of the newest apps, and it has been well-received by those who use it. From the name of the app, it becomes clear to you that he specializes in the automatic recording of calls.
With this program, you will be able to record all incoming phone calls on any Android phone with high purity. The software allows you to choose your recorded audio quality. We note that after you finish the call you can delete the recorded call immediately if you want to.
5. Call Recorder: Best Phone Call Recorder App For 2023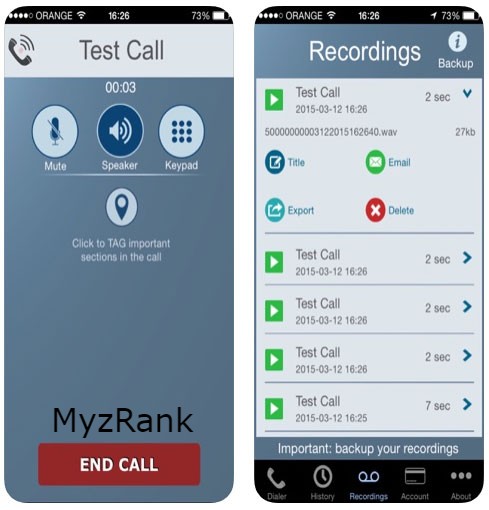 This app also joins the best phone-recording apps and automatically records calls of high quality, whether they come from you or to you. After the call, you'll be able to save the high-quality recording as an MP3 file, and you can save the file on the external memory rather than on the phone's internal memory.
---
Share: