Best Free Apps To Learn Spanish in 2024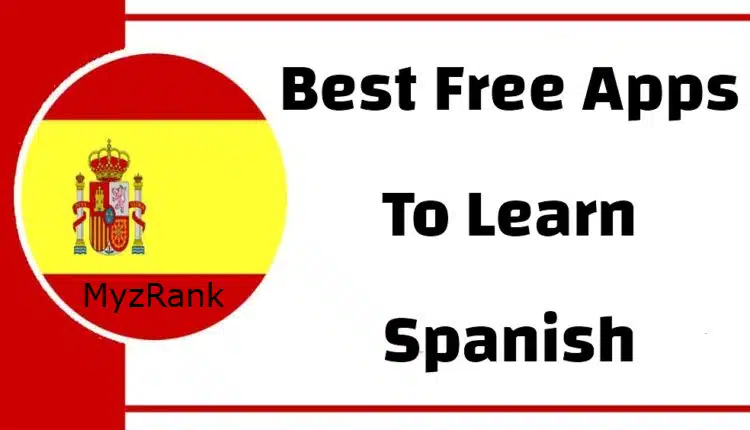 Learning a new language can be a little difficult depending on your basic level, many people choose to go to language learning centers which may be the right choice but, at the same time it costs money and time.
There are actually some effective ways to learn a language by just using your smartphone such as watching online courses or using apps that have been made for language learning.
Many people are looking to learn Spanish these days if you wanna of them, you can follow our report or suggestion that contains a list of "Best Free Apps To Learn Spanish in 2024" that make you master the Spanish language and that's of course if you have the passion for it.
Related posts:
5 Best Apps to Learn Japanese for Free in 2023
Best Piano Learning Apps for Beginners in 2023
1. Duolingo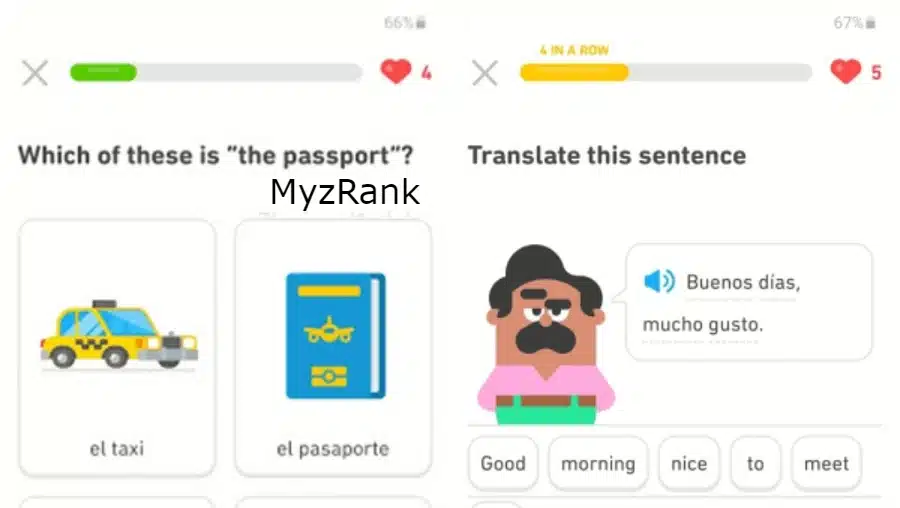 The best free app to learn to speak Spanish 2024.
The famous, multi-award winning app (including the AppStore and Google Play Store Best App Award of 2013) is self-explanatory and probably one of the most used apps of our time, with statistics indicating that over 300 million people around the world use Duolingo, a huge number.
The app's Spanish-language learning division is divided into different courses, spanning a wide variety of food, education, work, travel, and much more. These lessons become more difficult as the person progresses at the level and thus give the learner constant motivation to learn to open up advanced stages and lessons.
The app's popular feature is that few grammar classes in language help people keep the learning experience fun, entertaining, and free of boredom and routine.
2. Yabla
The best app for learning Spanish for Beginners 2024.
Yabla is a very unique app that focuses on the principle of language education by watching interactive videos. Yabla also features language games and written lessons to make the learning experience richer. Using a set of videos made by native speakers a person can develop his or her level of language largely by listening to these people speak to him or her and can recognize spoken language in everyday life by its native speakers. A mix of original content commissioned by Yabla and content licensed from other sources, including popular TV shows and movies, all videos have original speakers in the language we learn.
Giving you a real and unique experience! You can also play a series of fun, competition-based language games with other learners in the app, and who knows? You may be at the top of the learner's list during a short period of learning and while watching a video, simply click on the "Games" button to access fun activities such as "Missing Word" to test your comprehension.
3. Babble
Best free app to learn Spanish 2024.
Babble takes a completely formal approach to teaching you a language. It's simple-designed and focused to help you learn Spanish without all the other bells and whistles. So if you find Duolingo a little bit confusing and you like a game, Babble might be the right app for you. While we said the app is narrower, it's not boring. It contains all the typical audiovisual workouts you'll find in most applications in this list. It has a review section, which helps you keep your vocabulary regularly checked.
There is also a direct section in the app, where you can listen and learn from people who have experience with the language. One of the things we have noticed is that it takes a formal approach to categorize classes and lessons. It has titles A1, A2, etc. However, it is still characterized by learning through games, but like Duolingo, it is not the primary way to learn Spanish. But the main downside is that only the first lesson of language is available for free experience, and the rest requires a subscription. Plus, you can also get all the games, videos, podcasts, and other features in your paid subscription.
4. ROSETTA STONE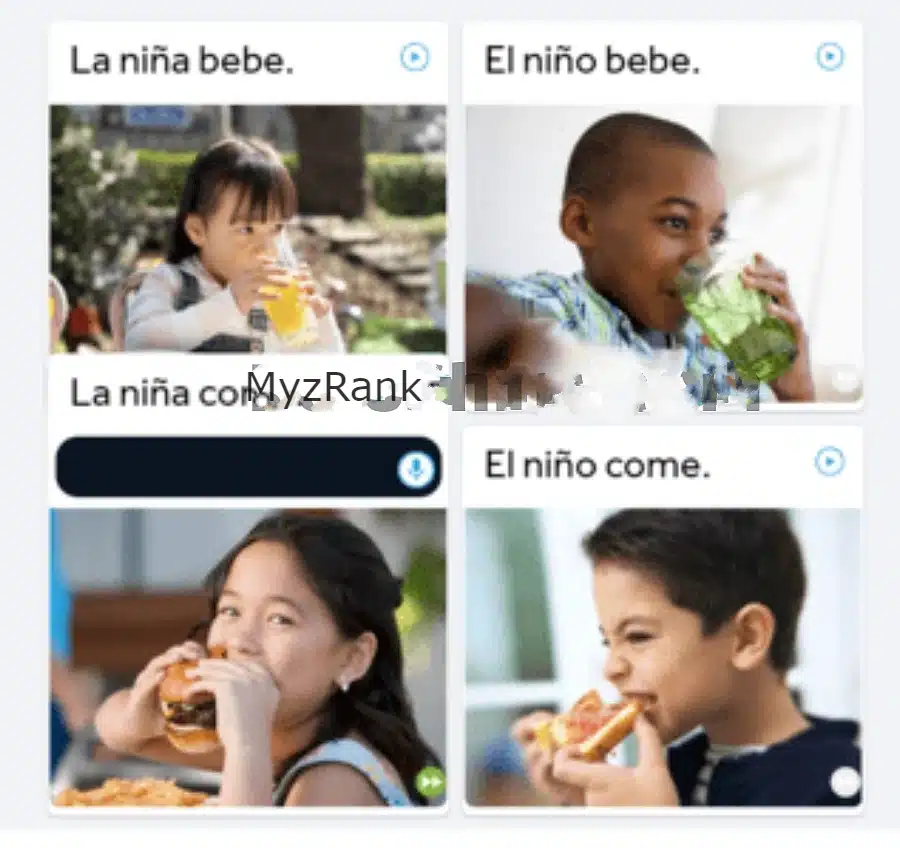 The app will make you fluent in Spanish.
If you plan to take courses in Spanish with a detailed curriculum, Rosetta Stone is the right app for you. It's a beautifully designed, user-interface application, full of classes to help you easily learn Spanish.
On the Learn tab, there are different classes. You're supposed to start off by separating "The Basics of Language," and as you go along, you can explore topics like shopping, eating, holidays, tourism, entertainment, etc. It also contains a customized "Common Phrase Interpretation Book", which provides phrases in your area. Fingertips based on the activity you do. Basically, Rosetta Stone helps you learn Spanish to deal with each situation. We admire lessons that are categorized based on situations, and that's what makes it one of the best apps for learning Spanish on your phone. While the app was mostly seamless and easy to use, we found some errors, especially in how the app automatically entered the horizontal mode. However, some extended learning options such as voice companion and story learning are only present in the paid version of the app. Buying the paid copy opens up full access to the app, and you can even watch some lectures about the language you learn.
5. FluentU
FluentU takes realistic videos — such as music videos, movies, inspiring news, and conversations — and turns them into language lessons. FluentU combines sound, video, and authentic Spanish voice learning. Each feature is designed with language learners in mind, check the definition of each word without leaving the page, read the text and study key vocabulary before diving into the video, and then improve your skills through interactive learning features such as educational cards and vocabulary lists.
Everything is customized according to your level of learning and style based on the content you're learning, and it's ideal for knowing which video resources work best for you. Furthermore, FluentU's Spanish Learner blog includes regular blog posts with tips on language and culture, learning resources, vocabulary, and grammatical information.
Read also:
Best Streaming Platform for Gaming in 2024
6. Busuu
Best Spanish learning app for kids 2024.
The app includes comprehensive grammar lessons with extremely helpful exercises that not only help beginners gain a solid foundation for good Spanish grammar but can also help middle learners achieve the next level of Spanish proficiency. Busuu uses a variety of images and audio files to help you expand your vocabulary, contains many helpful text-understanding resources, allow you to focus on understanding dialogs to learn about language, and provides an opportunity to interact with other users and native speakers so you can share and correct written exercises.
There's excellent additional content like the podcast, but apart from the features paid for, it's a really useful Spanish app, you can get a basic membership for free, and for your first week, you'll be able to access some of the advanced features, after which, you can determine if you want to continue the free version or upgrade to a subscription.
7. Memrise
Memrise is the Editor's Choice app on Google Play and is also one of the best Android apps for learning Spanish. It has a community of over 45 million users worldwide, and now you can be the next member of this community to successfully learn Spanish.
The app will help you learn the basics of Spanish, chat with native speakers, improve your speech, and more. With more than 50 million users, Memrise gives you the ability to learn Spanish in two classes, Spanish and Mexican. This app can help you learn a language, whether you're a beginner or a professional because it has a distinctive, professional teaching system for people who speak Spanish as a parent language.
8.

MOSALINGUA: LEARN SPANISH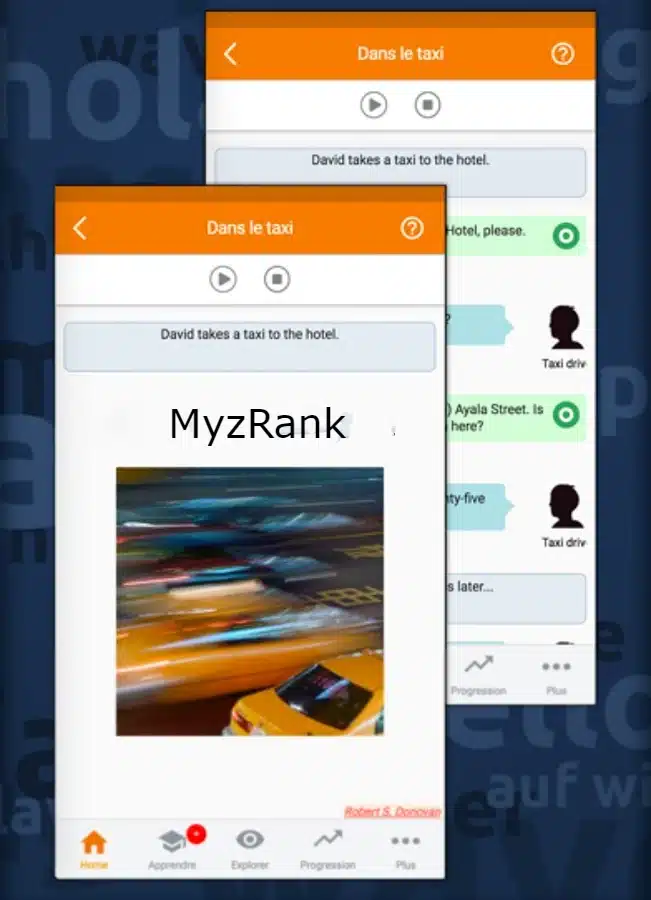 Learn Spanish app Offline for free.
This app is different from previous ones because it teaches only Spanish, and it relies on top technologies to memorize words for good, so it can help you greatly increase the vocabulary you learn. The app is very interested in the words you use a lot in your everyday life, so it's not going to focus on unspoken words that you'll never use, and it's very simple to use.
The Memrise app has more than 150 courses to learn more than 25 languages, including English, Korean, and German. To learn a language almost completely, you have to go through 114 stages, where you start with the basics, you go deeper into the language. In the last stages, there's a general review of what you've learned. In addition, there are over 30,000 videos in the app for analyzed speakers.
9. Hello Talk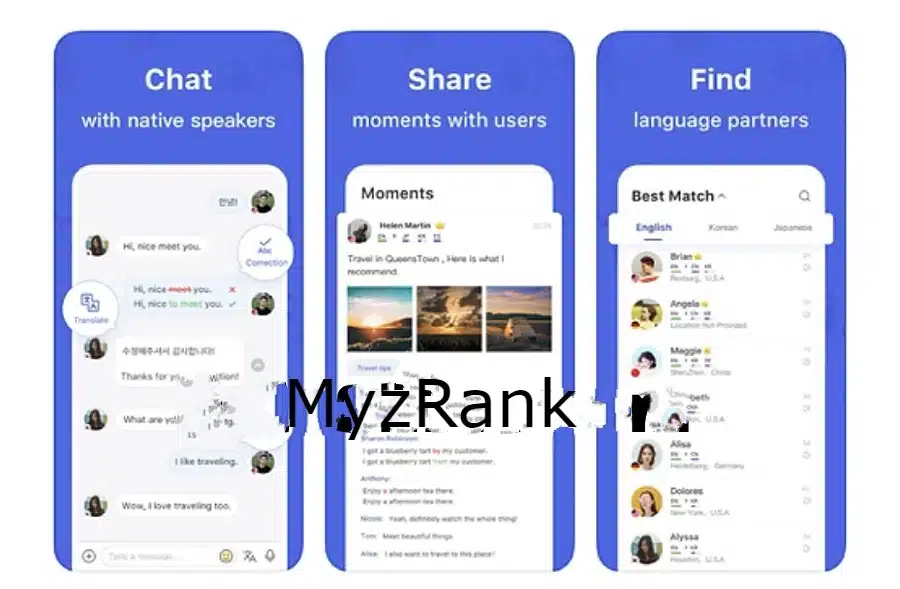 The Hello Talk app was created in 2017 by Zackery Ngai and features more than 100 languages of English, Korean, French, and Russian. "Hello Talk" is mainly based on users connecting to each other and teaching each other.
Each user teaches the other their own mother tongue. For example, I am an Arabic speaker talking to an American person who wants to learn Arabic, so you can learn from each other. You can get regular friends through this app, and even people get married through this program. In addition to the above, there are other ways to learn other languages through Hello Talk, such as converting text to spoken speech and vice versa, you can download Hello Talk from Google Play and App Store for free.
10. italki
Italki is the best-known language-learning software, the most popular language-learning app with native speakers in one-on-one tutorials. You can also make money from online language tutoring through the app. It is the best tool to learn a language and an online language platform that connects language students with language teachers from all over the world. Italia offers a set of customized lessons based on your interests, skill level, and pace of learning – no matter whether you learn to study, work, travel abroad, prepare for an exam, or just learn to dive into the culture – where you can always find the most experienced teachers to meet your needs.
You can learn more than 150 languages like Spanish, English, French, German, and many more, and whether you're looking to improve your speaking or conversation skills or learn a new language, you'll find the best language teachers to help you hone your language skills with the italki app, the most popular language-learning app.
---
Share: