Best Free VPN for Android without Registration 2024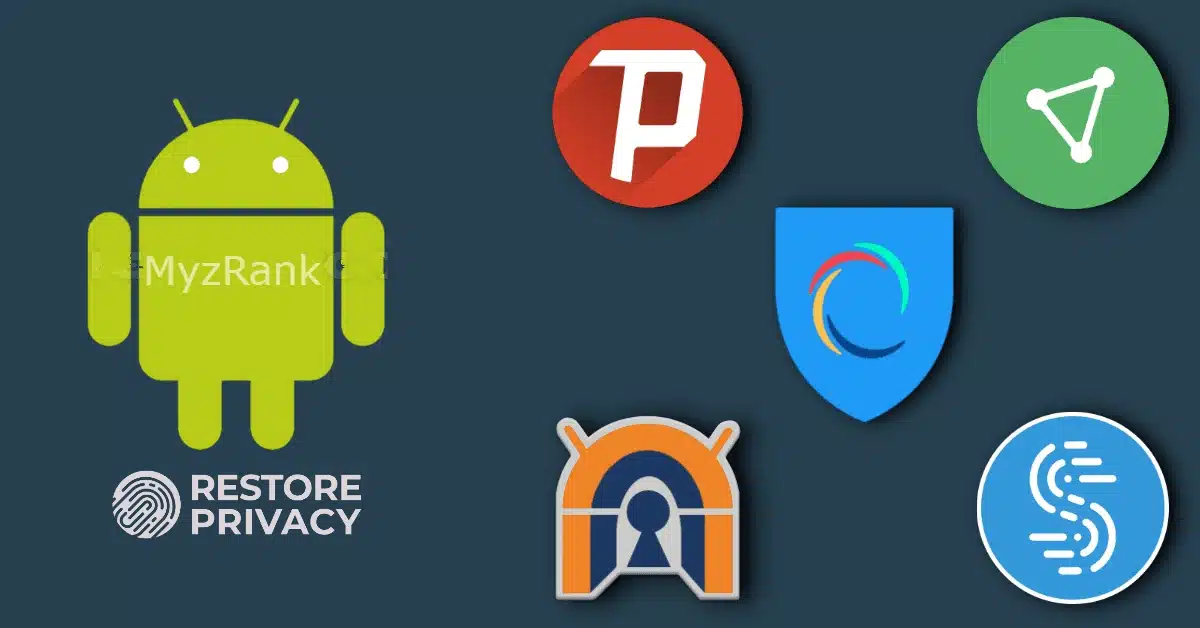 The VPN service is actually one of the most important things that should every Internet user have, It will provide you with many benefits such as access to private region streams and services, secure your connection, hide your IP address, and encrypt the traffic data.
as you should know if your IP address is visible to the public, then your ISP or any other traffic spying organization can determine where you are located and what you're doing on the Web, the role of IP masking is removing these insults to personal privacy.
There are thousands of companies across the web that offer this kind of service, so finding the right pick for you can be a little confusing sometimes, however, if you are looking for a free one that you can use on your mobile, to help you with that we've made a list of the Best Free VPN for Android without Registration 2024, according to our review and direct experience.
Check out: Best Android phones in 2024
1. Betternet
The completely free VPN for Android 2024.
Betternet is a free and fast VPN that is reliable enough for all time, tunneling protocols and the Big number of servers have a massive impact on a VPN speed. Batternet uses a proprietary protocol called Hydra Catapult which it claims is similar to the popular used OpenVPN protocol. However, it's difficult to figure out exactly how many servers are really available on the service especially when we talk about free users, so there is no clear info about this. Although what we are pretty sure about is that there's only one available location in the US which could be so limited for some users, but, from the speed, it shows very great performance and the ping can be very low as well.
Features:
+ A Large number of servers in over 80 countries.
+ Support streaming services
+ High security with an encryption protocol
+ Work with all device type
Read also: Best DS Emulator for Android in 2024
2. Proton VPN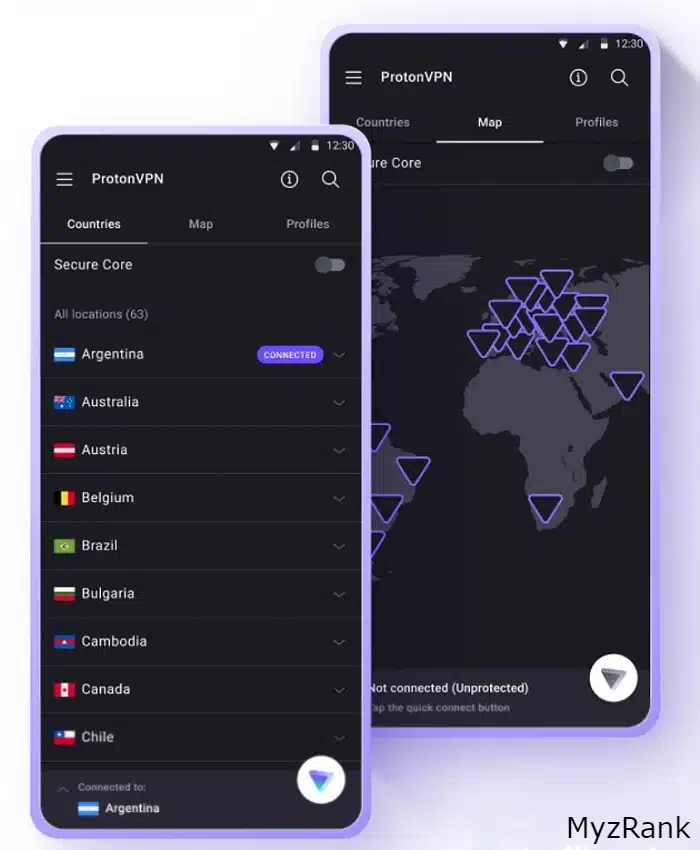 The strongest VPN for Android 2024.
Proton VPN is one of the fattest VPN services that you can find right now, the free plan did not have the same High performance as the paid plan, but, it was definitely worth it and it will provide an excellent experience for browsing, watching streams and, other primary uses. But if you are looking to use Proton VPN for heavy tasks like gaming and downloading you may want better performance than what the free plan has to offer, for sure, speeds are much greater on the paid plans which allows you to use Proton VPN 10GB/s servers. However, the free users get 23 servers in 3 different countries, and even though this particular service has a lot of users, the performance is still decent.
Features:
+ High speed and performance
+ allows you to access blocked content
+ Has Adblocker feature
+ Support streaming services
+ Tight security
3. Windscribe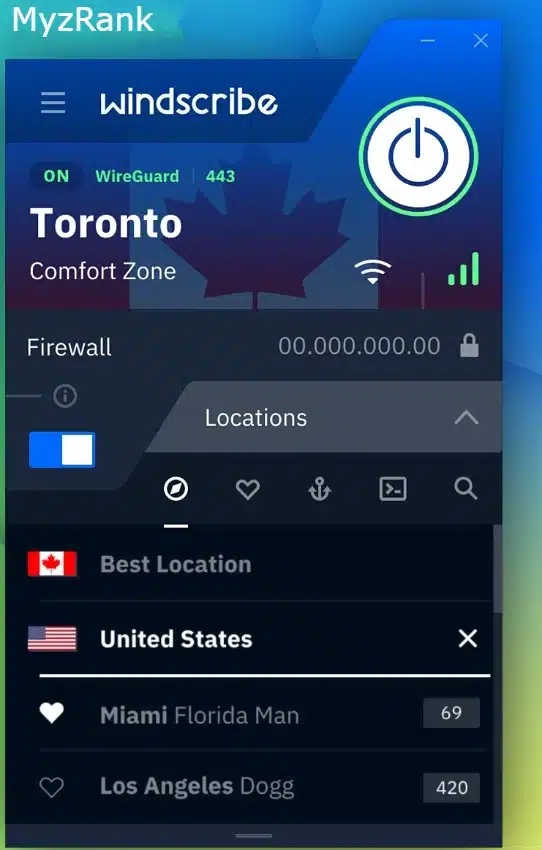 Windscribe is one of the newest VPNs. It has been around for 5 years but claims to be the best VPN on the market.
After I tried the Windscribe VPN I would say that the results were actually pretty good for free use, aside from the fact that they have a free version that allows users to have unlimited access connections which do work very well for gaming, also, it has no identifying logs policy, provides great speeds, works with Netflix and it even has an add and malware blocking feature. For general online activity, Windscribe might be good, but not all VPNs are perfect for this service. One of the most Windscribe cons that I notice is that they don't support a real live chat assistant, just a robot response that cannot handle outbox issues or complex queries and I do think that's what they need to improve to make the service look better.
Features:
+ Military-grade encryption
+ Support stealth mode
+ Social Fence
+ Tracker Eradicator
+ Double Hop & Time Warp
The article you may need: Best Android Games in 2024
4. NordVPN
The best free VPN for Android 2024.
Actually, NordVPN is not a free VPN, it's a paid service but there are some ways to get a free plan. I will show you how to get a free one-month trial of this service in a totally legal way.
NordVPN is a premium VPN service that offers plenty of essential features, but even though there's no free plan for users, it is possible to see the service for over a month plus a week on top and, enjoy every specs and feature that has to offer without paying any money which I will show you how to proceed it right now.
In order to get a free trial from this service for about 7 days, you will have to subscribe on Android via Google Play Store, but once you've activated the free trial, you can then start using NordVPN on any type of device, also it's worth to know that the free trial is only available to first-time users and NordVPN will actually be able to save your device ID and won't let you claim the free trial again.
Features:
+ New generation encryption.
+ No logs or policy
+ Strong security
+ Kill switch
+ Support streaming moods
5. Hotspot Shield VPN
Unlike Windscribe, Hotspot Shield is one of the oldest VPN services ever since 2008.
One of the most interesting things about the Hotspot Shield VPN is the security technology which runs with a proprietary Hydra protocol. This particular protocol still utilizes the golden standard, AES-256 encryption, even though it is being gradually displaced by the modern CHACHA20 encryption in market-leading VPNs. However, Hotspot Shield VPN does not actually offer any additional features besides encryption, No online protection from malicious links, no split tunneling or port forwarding. Now from the privacy side Hotspot Shield is actually mainly located in the US which is not a great deal for users, as we know the US is part of the Five Eyes intelligence-sharing Alliance, and as far as the reports claimed, Hotspot Shield's free version collects a variety of the user's data.
Features:
+ Unlimited Bandwidth
+ Provide a secure connection
+ Compatible with all devices
+ Very smooth performance
Read also: Best 5 Private Search Engines in 2024
6. PrivadoVPN
The most secure Android VPN 2024.
In the age of modern cyber war spam and various other threats to privacy, you should definitely be considering getting a VPN service. PrivadoVPN is a Swiss-made VPN app that provides many nice features that will cover all your needs in only one package. ProvidoVPN is a VPN service or in other words, it is a virtual private network that hides your IPs from bad eyes, it works as a simple app once you install it on your device, and running it filters all incoming and outgoing data through the new virtual IP, so it can't be known if it's in operation you just use your computer. There is a free option with Privado VPN that gives you up to 10GB of free data for over a month, which I see is much better than the other free service options on the market.
Features:
+ High security and strong encryption
+ Support Kill Switch
+ You can use the same account on different devices
+ Good customer support
7. ExpressVPN
ExpressVPN is the 1st VPN in several key areas, so there are no activity logs and no connection logs this is a great advantage because it means that no one will be able to look at what you doing on the web online and, this includes your internet service provider. Also, with Express VPN you can actually have that absolute assurance that no one at any condition will have access to your data and it's worth mentioning that this service is based out of the USA. Hence, it's away from the 3 party terms and other stuff…
With Express VPN there are more than 3000 servers across 94 countries which will provide unlimited high-quality bandwidth, they provide Kill Switches which is an excellent feature for people who are using any file sharing also it shows the speed tests so you can see which server will work the best with your tasks.
Features:
+ High security and strong encryption
+ Support Kill Switch
+ You can use the same account on different devices
+ High-performed speed
+ Good customer support
---
Share: